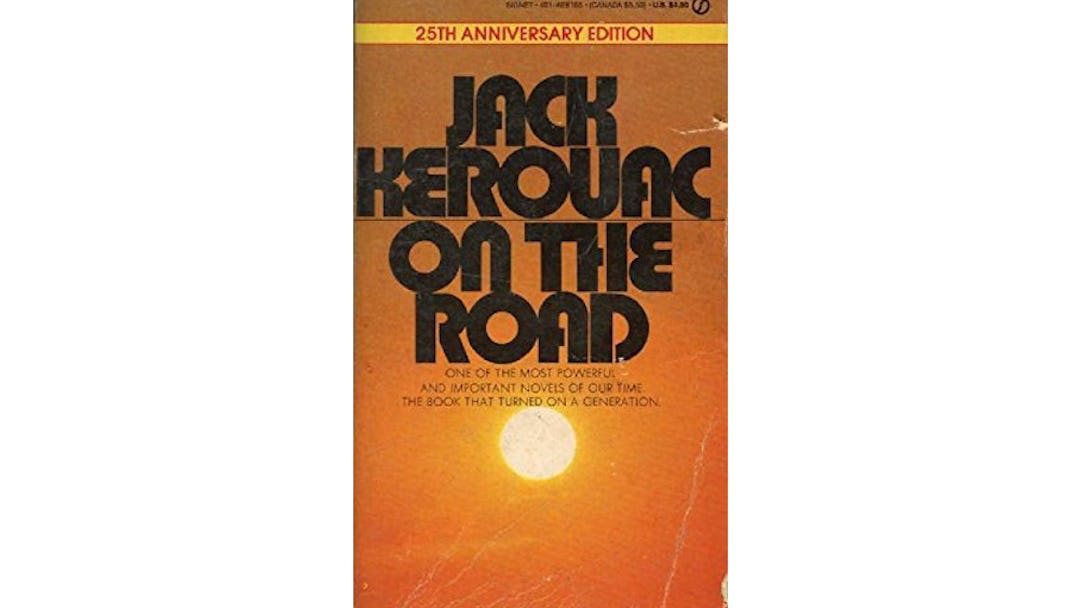 Penguin Books
The True Story Behind the Letter That Inspired Kerouac's 'On the Road'
The famous "Joan Anderson" letter from Neal Cassady to Jack Kerouac has been found in Southern California. Cassady apparently wrote the letter to Kerouac in a drug-fueled, sex-crazed haze on December 17, 1950. The rest is literary history.
Kerouac famously called the letter "the greatest piece of writing I ever saw, better'n anybody in America, or at least enough to make Melville, Twain, Dreiser, Wolfe, I dunno who, spin in their graves." It was the muse that lent the jazzy energy and so-called "stream of consciousness" style to On the Road and the rest of his Duluoz Legend, in which Cassady appears as a clandestine presence (either as Dean Moriarty or Cody Pomeray). But the letter itself disappeared.
The story behind the letter is jumble of tall tales and fibs, as it turns out. Kerouac lent the letter to Allen Ginsberg, who later loaned it to poet Gerd Stern, who worked, at the time, for Ace Books. It was long supposed that the letter was lost in Northern California, apparently dropped overboard from a friend's houseboat. Yet Stern long claimed that he had given it back to Ginsberg.
The discovery of the letter, which will soon go to auction — surely to earn tens of thousands if not millions of dollars — appears to validate Stern. It is likely that Ginsberg sent the copy to Golden Goose Press in San Francisco, where it later ended up in the archives of a record label that shared an office with one of the press's editors. Knowing nothing of the contents, the label owners simply kept the letter boxed away, unopened, for 60 years.
The contents of the letter are something of a mystery as well. We're told that they detail Cassady's interactions with at least two personages. One is the curious figure John Harley Schmitt, a priest and Cassady's godfather, who met Cassady as a child and was charmed into overseeing his baptism. The other figure, from which the letter takes its name, is Joan Anderson.
The letter is thought to draw some of its content from Cassady's recent sexual escapades with Anderson, a young, beautiful woman with whom the writer had a torrid affair. The real story behind the letter is more complicated.
According to Neal Cassady: The Fast Life of a Beat Hero by David Sandison and Graham Vickers, there is a "surviving portion" of the letter that Kerouac may have fabricated. We know from this fragment that Joan Anderson was a girlfriend of Cassady's that the writer repeatedly abandoned — he had a long history of such behavior, which included episodes in New York City, where he first met and hung around with writers later known as the Beats. Apparently, Cassaday was smitten with Anderson on the basis that she resembled Jennifer Jones, the Hollywood actress who starred in films like Duel in the Sun and Cluny Brown. And though most of what we know about Anderson is filtered through Cassady and possibly Kerouac, it is likely that Cassady's abandonment of her came on the heels of her recovery from an abortion of his child.
The Joan Anderson letter will soon be sold by auction house Profiles of History, presumably for a considerable sum. The letter is considered by many to be a "holy grail" discovery in 20th century American letters, although no analysis or criticism of the letter, which might detail the degree to which it evidently influenced the course of American literature, has been published. (Any casual reader of the Beats might wonder whether such a letter could have influenced the style Kerouac or Ginsberg more than any piece of writing by Walt Whitman.)
But the real cash-value of the letter may not depend on its literary worth at all. Once it is sold at auction, it will likely take another turn at a large publishing house, before landing at the feet of a Hollywood studio. From there, we will almost certainly be treated to yet another Beat film that glamorizes and aestheticizes and sexualizes these figures at the expense of history and literature. The "real version" of On the Road, adapted from this letter, will provide some young Franco-ite actor with grist for another forgettable film, which will open at American festivals and end up in progressive high school literary classes all over America.
If you don't believe me, just watch The Last Time I Committed Suicide, based on Cassady's Joan Anderson letter, starring Keanu Reeves. Its tagline is: "Life is what happens when you're busy making plans."