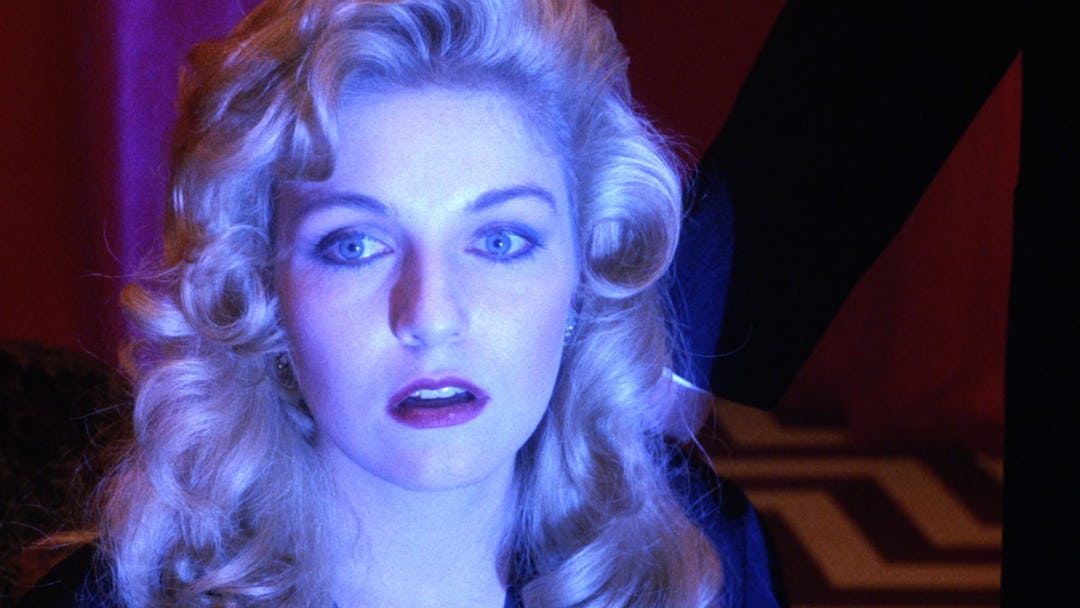 Criterion
Second Glance: The Terrifying Beauty of 'Twin Peaks: Fire Walk With Me'
Welcome to "Second Glance," a bi-weekly column that spotlights an older film of note (thanks to an anniversary, a connection to a new release, or new disc or streaming availability) that was not as commercially or critically successful as it should've been. This week, in advance of the much-anticipated return of 'Twin Peaks,' we take a look at David Lynch's Twin Peaks: Fire Walk With Me.
Special Agent Dale Cooper: "Sorry to wake you." Carl Rodd: "I was havin' a bad dream anyway…" – Dialogue from Twin Peaks: Fire Walk With Me
Variety's big feature story on Showtime's upcoming Twin Peaks revival is about as informative and exhaustive as one can be, considering the overwhelming secrecy of the work in question. Director David Lynch and his collaborators talk around the new season of the show without talking much about it, which makes the bits of hard information they do reveal all the more telling. So, understandably, fans of the filmmaker have seized upon this brief nugget:
One last clue from Lynch: The film "Twin Peaks: Fire Walk With Me," he says, is very important to understanding what's coming May 21.
More than that is not said – but saying that is saying a lot. Fire Walk With Me has always been one of the more complicated pieces of the Twin Peaks puzzle, a prequel/expansion film that was released barely a year after the conclusion of the series' wobbly (to put it mildly) second and final season. Even before that year marker, it had premiered to general hostility at the Cannes Film Festival, where The New York Times' Janet Maslin wrote, "Mr. Lynch's taste for brain-dead grotesque has lost its novelty, and it now appears more pathologically unpleasant than cinematically bold"; Quentin Tarantino, the toast of the fest that year with Reservoir Dogs, announced, "After I saw Twin Peaks: Fire Walk with Me at Cannes, David Lynch had disappeared so far up his own ass that I have no desire to see another David Lynch movie until I hear something different." Notices were scarcely better when it hit theaters a few months later – the Times' Vincent Canby sneered, "It's not the worst movie ever made; it just seems to be," and the Chicago Tribune's Dave Kehr wrote, "For a film with a pre-established conclusion, Twin Peaks: Fire Walk With Me seems depressingly interminable."
Time has been kinder to the film than those initial notices, which could very well be chalked up to critical unawareness of the series (there was much less crossover in those pre-Prestige TV days) – or, on the other extreme, the enmity towards the property that lingered in the aftermath of the spectacular crash-and-burn of its second season. That year started off well, picking up the "Who Killed Laura Palmer" mystery from the abbreviated first season and bringing it to a bizarre but satisfying conclusion, but once that initial score was settled, the show had nowhere to go but into a soup of free-form weirdness that quickly alienated viewers and critics. Creators Lynch and Mark Frost had left the show in other hands that season, but Lynch returned to direct its final episode, slamming the show's desperately disparate elements together whether they fit or not, to create an hour of television both comically bizarre and deeply disturbing. Much of the second season is best forgotten, but not that conclusion; in fact, its style and tone is closer to Fire Walk With Me than almost anything before it in the series.
Once that episode put the show back into his bloodstream, Lynch said, "I couldn't get myself to leave the world of Twin Peaks." So he and co-writer Robert Engels (but not, significantly, series co-creator Frost) scripted a film that dramatized the last week of Palmer's life, and connected it to another crime a year earlier. He found financing outside the studio system, via a French producer, and brought back much of the original series cast – plus ringers like David Bowie, Chris Isaak, Harry Dean Stanton, and Kiefer Sutherland, and with Moira Kelly subbing in for Lara Flynn Boyle. (Worst part of the movie: no Audrey Horne. Best part of the movie: No Lucy and Andy.)
It opens, unsubtly enough, with an axe going into a television, before spinning off into the extended, barely-connected prologue in which Lynch himself is our only direct link to the series. It's a good 25 minutes before Kyle MacLachlan and Miguel Ferrer show up (along with such familiar elements as Bob, the Dwarf, and people talking backwards in the red room); finally, at 33 minutes, we're greeted with the Twin Peaks town sign, Angelo Badalamenti's dreamy theme, and Laura Palmer, brought back to life by Sheryl Lee.
The early scenes almost feel like a bait-and-switch – we're edgy, even beyond the events onscreen, because we're waiting for all the Twin Peaks people the credits promised. (Not all of this was purposeful – the main character in these scenes, Isaak's Special Agent Chester Desmond, was initially written as Cooper, until MacLachlan first passed on the project and then returned under the condition of a reduced role.) But even in those early passages, Lynch's aim is to unsettle. In one indicative scene, Isaak's Agent Desmond and Sutherland's Agent Stanley conduct a terse interview under an unexplained flickering light; only in the wide shot of their exit from the room do we see that the cause of the distraction is merely a light bulb that needs replacing.
Things get far more sinister once sexed-and-coked-out Laura takes center stage, and Lynch dumps out his loaded toolbox to transport us into her disturbed world. There's a sense of scorching desperation in the Canadian dive bar scene – red lights, bare bodies, spiked drinks and dead people – and strangeness to the film's mood and style. It's an odd hybrid of film and television show that feels like neither, since it keeps using the devices of each medium to keep the other at bay; Lynch fades in and out of black at regular intervals, like he's going to commercial breaks, but presents unairable depictions of depravity between them.
What was new for Lynch in Fire Walk With Me was its tone. He'd always made strange films (few things on this earth are more bizarre than Eraserhead), but here, via the assaultive sound design, the terrifying beauty of his nightmarish imagery, and the hallucinogenic layering of said images, you can see him tipping towards the specific kind of formal experimentation that would flow through Lost Highway, Mulholland Dr., and Inland Empire. He's approaching this material much differently than even in his first, hands-on season of the show; it's played without the quotation marks of Twin Peaks proper (or even Blue Velvet). There is nothing funny about the incestuous rape of Laura Palmer, and as she shrieks "who are you" and realizes who it is, Lynch refuses to shrink from that moment's implications with an easy wink.
Ray Wise, as the man committing that unthinkable crime, turns in another brilliant, seven-layer performance, monster one moment and weeping patriarch the next (and Lynch, to his credit, lets the camera capture the moments when one gives way to the other). Lee's is one of those performances that's either brilliant or terrible; it's hard to pinpoint which, and maybe it's both. She comes up a little short in the scenes of everyday conversation, but she can sure sell the demon shrieks, and it's hard to imagine even the most seasoned of actors could deliver the same gooseflesh she does in the film's closing scenes.
By the time those scenes arrive, in all their horror, tragedy, and terror, the accumulation of Lynch's vision finally becomes clear, and the story feels complete – so much so, in fact, that it's hard to envision how the new series can feel like more than an afterthought. Then again, it's never wise to underestimate David Lynch.
"Twin Peaks: Fire Walk With Me" is currently streaming on Showtime Anytime and is available for purchase and rental via Amazon, iTunes, and the usual platforms.