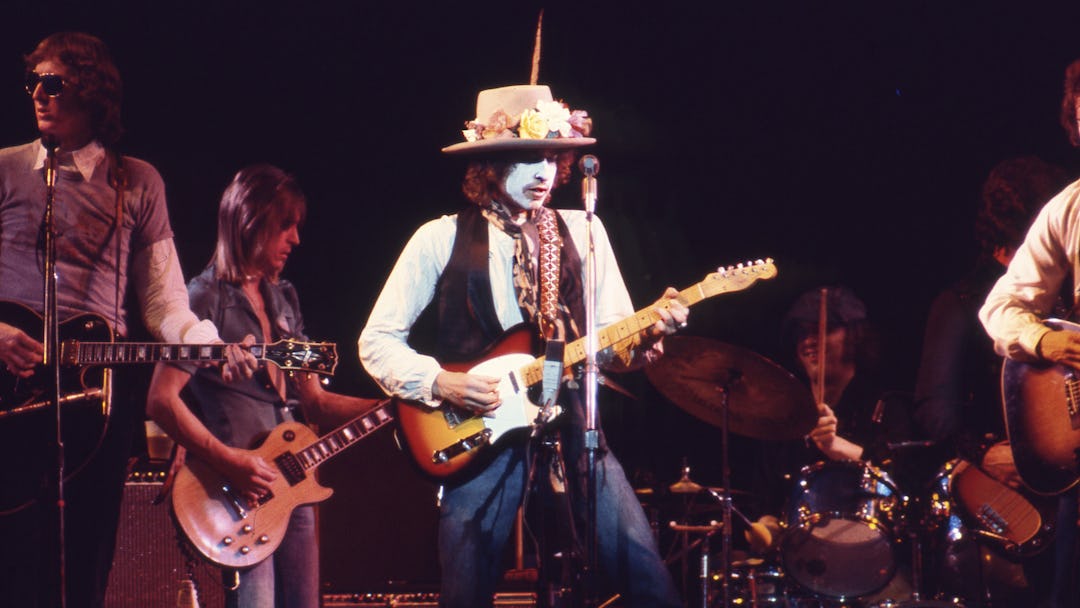 Netflix
"Actually, They're All True": 'Isis' and the Slipping of Bob Dylan's Mask
The performance starts at 20:25, if you'd like to bookmark it – and to be clear, Rolling Thunder Revue: A Bob Dylan Story by Martin Scorsese is worth watching in its entirety, but the part we're here to talk about begins at 20:25, Bob Dylan performing "Isis" at the Boston Music Hall on November 21, 1975 (evening show). Donning a cowboy hat with an ornate floral arrangement, his face smeared with white greasepaint, Dylan fires the lyrics at the audience like daggers; he points at them for emphasis, and when he's not pointing, he makes fists with his hands. He tells the story of a man who marries a woman named Isis and then leaves her almost immediately, swayed by the promise of an awaiting treasure, with which he can buy her gifts of love. But the promise is a lie, and he returns to Isis empty-handed – yet still finds her willing to welcome him. His eyes dart across the crowd as the intensity of the intonation increases, his hard-edged voice escalating into something like a shout. By the end of the song, sweat is raining from his chin in drops, emphasized by the dabs of white paint they take with them.
It might be the single greatest Dylan performance ever captured on film, astonishing and electrifying. By its end, the audience I saw it with was sitting in stunned silence; I've revisited it several times since, and it's lost none of its power. It reveals something even those of us who idolize Dylan, who've heard all the albums and tracked down the bootlegs and gone to the concerts, rarely see: the man seeming to lose himself entirely in his song.
"Isis" is less a song than a folk tale, 13 verses and no chorus. Dylan composed it with songwriter and stage director Jacques Levy over one long night in early 1975, a top-to-bottom rewrite of a song Dylan had begun on his own but couldn't lick; Dylan so enjoyed the process that they continued working together, collaborating on six of the eight songs on his next album, Desire– his first real songwriting partnership.
Desire was recorded primarily in a pair of marathon sessions, July 30 and 31 of 1975, and the album version of "Isis" might as well be another song: almost a waltz, with lulling piano and violin, and laid-back drums. In his vocals, Dylan dons the guise of the storyteller, the campfire singer, and when the wandering husband returns home to Isis, his response to her invitation to stay – "If you want me to, yes" – is gentle, reassuring, an embrace. His previous album, Blood on the Tracks, is one of rock's great break-up records, the singer/songwriter grappling with his separation from Sara, his wife of a decade. Desire, which was in stores just shy of a year later, plays like its second half, still tinged with a sense of loss and regret, but further along on the process of grieving for the union, capable again of joy and celebration for what once was.
The album was released on January 5, 1976, but Dylan had already unveiled "Isis" during the fall '75 swing of the Rolling Thunder Revue, his free-wheeling, multi-artist, "con man, carny medicine show of old," in the words of Allen Ginsberg. Several of the performances from that leg are collected in the just-released box set The Rolling Thunder Revue: The 1975 Live Recordings, including the Boston performance in the film, which offers an enlightening opportunity to watch the song take its final, haunting shape. Two discs include tour rehearsals, from October 19 and 21, and in those rough run-throughs, Dylan basically mounts a facsimile of the album version – languid, mid-tempo at best. But he's already pounding at the clay of the track; though he's put it down for the album, the song is still alive and he's still searching for it, throwing in piano trills, beginning to bend his voice to the curves of the story.
The tour kicked off on October 30, 1975, and by the November 19 show in Worcester, Massachusetts (the first live performance preserved by the box set), "Isis" is evolving; that rough magic is beginning to creep into his voice, the band is starting to cut loose in the breaks. The next night, at the Harvard Square Theater in Cambridge, Dylan misses his entrance in the first verse, forcing the band to vamp – and so, as if to compensate, he goes in as hard on the song as he ever has. You can hear the band getting tighter as his vocals become sharper and more pointed. But he's still singing it, or, as his detractors would have it, "singing" it.
The next night, in Boston, he finally, truly finds the song – and finds the voice singing it. It's the voice of a revival tent preacher, leading a band of misfits and grifters who'd come into town, set up a tent, and opened the flaps, just as Dylan and his crew had. He's no longer a wandering husband telling his story; he's a reverend telling a parable, of a journey that ends at an empty tomb (just like in the Bible).
The story goes that Patti Smith advised Dylan to put down his guitar for the "Isis" performances on the tour, but he was resistant, unsure of what to do with his hands. Smith told him to make them into fists. That's the spirit of the performance, barbed and defiant; he clutches his harmonica in one of those fists, but barely bothers to play it into the microphone during the instrumental breaks between verses, the de facto choruses of the song, the break as breakdown or, more accurately, rave-up. Dylan strides the floor rug that takes up the stage as his band explores the melody in increasingly frenetic fashion, and then he's back up to the microphone for the next verse – verses that increasingly end with barbaric yawps, lifted and carried into the next break by the Holy Spirit of the song.
The camera pushes in to a tight close-up as he sings, and it's invigoratingly intimate; I'd never before noticed how green his eyes are. The closer we get, the more keenly we can observe that he's "acting out" the song, in gestures, in ways he never does, perhaps because he's standing empty-handed – naked, really. So he pantomimes "the woooooorld's biggest necklace," his curving, complimentary hands creating a shape less like a necklace than an hourglass figure; when he pulls back "the COVER" of the tomb, he mimes that as well, turning his sermon into a ghost story.
By the time he's dramatizing this haunted figure's return to his beloved Isis, the song has become a celebration, and this time his response to her invitation is pure joy ("If you want me to, YES"), and the band descends into borderline-chaos, and the crowd goes nuts. When he's joined by bassist and musical director Rob Stoner on the final verse, describing his Isis as "a mystical child," there's something mystical about the singer as well; he's shouting her praises with a wide-eyed intensity, overtaken by the song's energy, and when he bleats out the final harmonica solo, his eyes are all but bugging out of his head.
That performance is the one in the Scorsese picture, and on the 2002 Bootleg Series collection of Rolling Thunder performances. But even that one is arguably eclipsed by the one heard later in the new set, as well as in Dylan's 1985 box set Biograph, and seen in his own 1978 film of the tour, Renaldo and Clara. In Montreal, on December 4, he's no longer performing the song; he's chasing it, wrestling it, and ultimately, possessed by it. He doesn't seem to sing the lyrics – they're escaping from him. The band, one of his best, is just trying to keep up.
It's not that Dylan customarily phones it on onstage (though he's certainly capable of that), but even at his best, he's traditionally some variation of aloof. So what exactly got into him in these performances? It could just be what Baez calls the "Rolling Thunder energy," which you can either take straight or as a coded reference to the white powder du jour. But there's certainly more to it than that. The closest Dylan offers to a clue to the song's meaning and import is found in how he begins the performances. He'd pivoted away from verbose stage chatter by this time (a stance he's mostly kept), but he does tend to fire off a line of introduction. In Montreal, as a shout-out to Canadian native son Leonard Cohen, he announces, "This is for Leonard, if he's still here." Early in the tour, he takes to labeling it as "a song about marriage." In the afternoon performance in Boston, he tells the audience, "This is a true story you're about to hear… happens to everyone." But that night, in the filmed performance, he puts a finer point on it: "This is a true story… actually they're all true."
"Isis" is a song of separation, reconciliation, and celebration – the story of a man who finds his love, abandons her for something better (for her, he insists, though he may know better), and then returns to her embrace. In real life, in the "true story," Bob Dylan's separation from Sara did not end so happily; they divorced in 1977. So it seems reasonable to assume that when he was writing and performing the song, often for Sara herself, it was an act of pleading, perhaps even desperation, hence the intensity of its vocalization and physicality. He's letting himself go, even behind that white greasepaint – "If someone's wearing a mask," he admits in one of the new interviews, "he's gonna tell you the truth." He seldom let himself go like this before, or since; after Rolling Thunder, "Isis" all but disappeared from his touring repertoire.
Or maybe – and there must always be a maybe with an artist as slippery and transformative as this one – he was simply giving his best performance, to his own cameras. This footage, after all, was captured for the Dylan-directed Renaldo and Clara, and the actor on stage knew exactly what the director wanted. It's dramatic, and cinematic, and electrifying, vibrating with a sense rare in most concert films and performances: that at any moment, anything can happen.
"Rolling Thunder Revue: A Bob Dylan Story by Martin Scorsese" is currently streaming on Netflix. "The Rolling Thunder Revue: The 1975 Live Recordings" is currently available from Columbia Records.