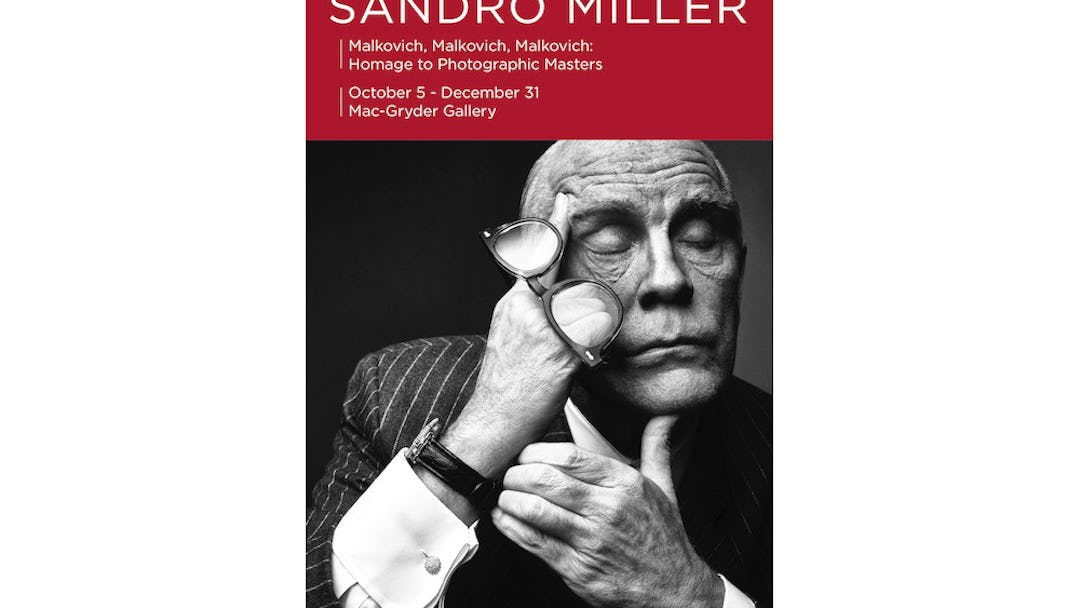 Mac-Gryder Gallery
Gallery: 'Malkovich, Malkovich, Malkovich: Homage to Photographic Masters'
One of the most enduring scenes (and weirdest, which is saying something) from Spike Jonze's Being John Malkovich is the surreal "Malkovich, Malkovich, Malkovich" sequence, in which the peculiar portal at the center of the story doubles back on itself, prompting the bizarre image of an entire room of John Malkoviches, communicating only by saying his name. Photographer Sandro Miller borrowed the title - and the idea of a world taken over by the versatile actor's visage - to create "Malkovich, Malkovich, Malkovich: Homage to Photographic Masters," in which Miller recreates classic photos and portraits with Mr. Malkovich standing in. The 61 photos, shot in two days-long sessions in 2014 and 2017, are being presented together for the first time at the Mac-Gryder Gallery in New Orleans; the show opens this weekend, but we were lucky enough to get a peek.
Arthur Sasse / Albert Einstein Sticking Out His Tongue (1951), 2014
Philippe Halsman / Salvador Dalí (1954), 2014
Albert Watson / Alfred Hitchcock with Goose (1973), 2014
Herb Ritts / Jack Nicholson, London (1988), 2014
Alberto Korda / Che Guevara (1960), 2014
Man Ray / Tears (1932), 2017
Alexander Gardner / Abraham Lincoln (1863), 2017
Victor Skrebneski / Bette Davis, Actor, 08 November (1971), 2014
The Mac-Gryder Gallery will debut "Malkovich, Malkovich, Malkovich: Homage to Photographic Masters" with a grand opening and artist's reception Saturday, October 5; the exhibition will be on view through January 1, 2020. More information available here.